GANDHI - A PICTORIAL BIOGRAPHY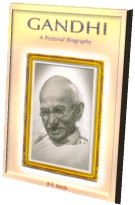 About Book:
This is the first pictorial biography of Gandhi in which the narrative-concise, readable and incisive is illustrated with contemporary photographs and facsimiles of letters, newspaper reports and cartoons, adding up to a fascinating flash-back on the life of Mahatma Gandhi and the struggle for Indian freedom led by him. There is a skilful matching in this book of text and illustrations, of description and analysis and of concrete detail and large perspective. This pictorial biography will revive many memories in those who have lived through the Gandhian era; it should also be of interest to the post-independence generation.
About Author:
(Shri B. R. Nanda - former Director, Nehru Memorial Museum and Library, New Delhi. His full-scale biography of Mahatma Gandhi has been published in India, Britain and the U.S.A. and translated into French, Spanish, Italian and several other languages).