In the ashram life Gandhi performed different kinds of work generally done by the menials. Before that when he was earning thousands of rupees as an attorney, he regularly ground wheat every morning. Kasturba and his children joined him in grinding. That supplied them with fine of coarse fresh flour for preparing unleaven whole meal bread at home. Gandhi continued this practice in Sabarmati Ashram. He spent hours in repairing a grind stone. Once a workers complained about shortage of flour in the Ashram, Gandhi immediately got up to lend a hand in grinding wheat. He was particular about gleaning the grinding. Visitors often found this great man in loin cloth busy with gleaning. He felt no shame in doing any manual labour in presence of outsiders. Once a collegian , proud of his English, came to meet Gandhi. After the interview he said: " Bapu, if I can be of any service to you, please let me know." He expected that he would be given some literary work. Gandhi sensed it and said: "Well, if you can spare time now, please glean this plate of wheat." The man was in a fix. After an hour he got tired of gleaning and bade good-bye in a weary tone.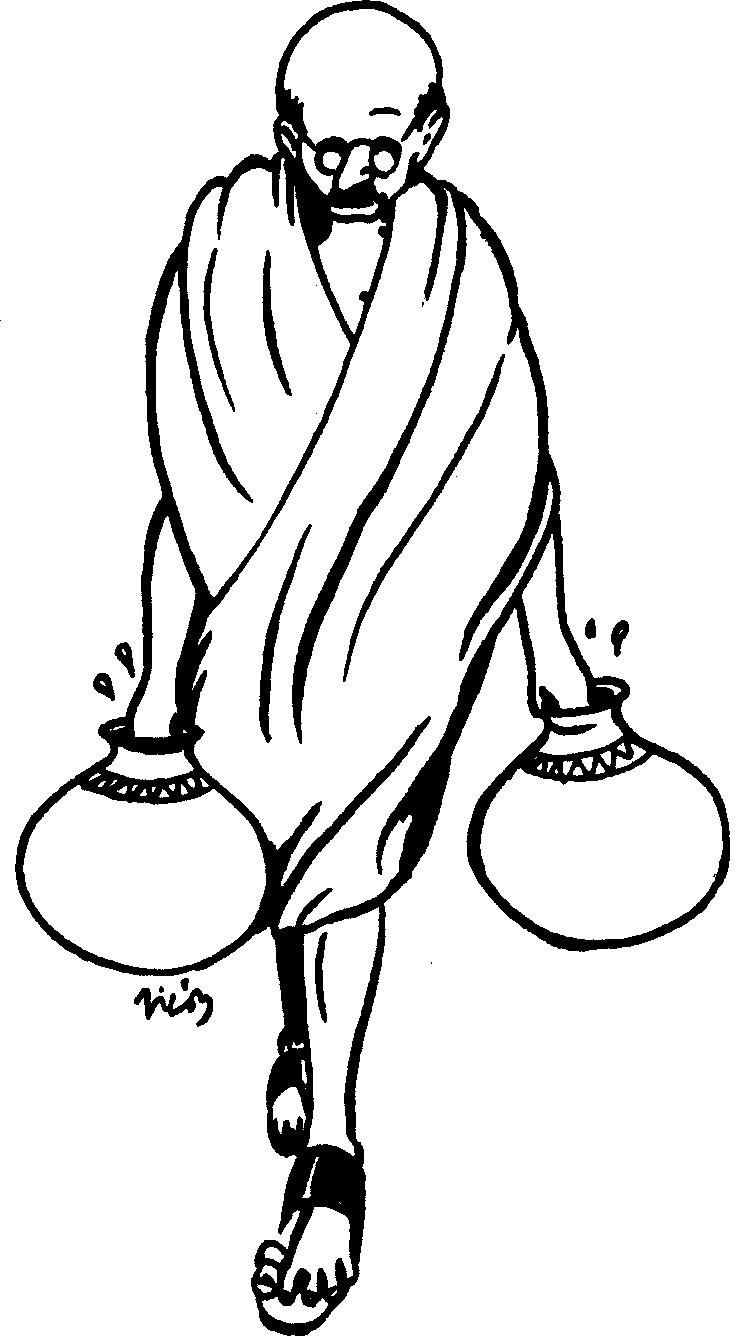 For some years Gandhi served as an assistant store-keeper in the ashram. After morning prayers, he used to go to the kitchen to peel vegetables. If he notices dirt or cobwebs in any corner of the kitchen or storeroom, he took his co-workers to task. He was well aware of the food values of vegetables, fruits and grains. Once an ashramite cut potatoes without washing them. Gandhi explained to him why lemons and potatoes should always be washed before cutting. An other inmate once felt insulted when he was given bananas with black mark on the skin. Gandhi said that he gave them to him because they were particularly suitable for his digestive system, Gandhi often distributed food to the ashramites who thus had little chance of complaining against the insipid boiled dishes served to them. In South African prison , he served served to them. In South African prison , he served food twice a day to thousands of fellow prisoners.
One of the ashram rules was that everyone should clean his own utensils. The kitchen pots were cleaned by different groups in turn. One day Gandhi chose to clean the big heavy cooking pans covered with soot. Smearing his hands with ash , Gandhi thought it wise to yield and left the work to be finished by her. Gandhi was not satisfied till the metal pots shone brightly. Once being displeased with the work of a helping hand in jail, he citied how he could make iron-pots shine like silver.
When the ashram was being constructed, some guests had to sleep in tents. A newcomer not knowing where to keep his bedding, rolled it up and went to inquire. On his way back he saw Gandhi carrying the bed on his shoulders.
Drawing water from a well outside the ashram precincts was another item of daily work. One day Gandhi was unwell and had already taken part in grinding. A co-worker wanted to save Gandhi from doing more body labour and wit the help of ashramites filed up all big and small pots. Gandhi did not like the idea, felt hurt and picked up a child's bath-tub. He filled it with water and carried it on his head. The workers repented his folly. So long as it was not physically impossible to cope with any work, Gandhi never liked to miss any routine work just because he was a Mahatma or an aged man. He had tremendous energy and will-power for doing any type of work. He knew no fatigue. For many days he covered 25 miles a day as a stretcher bearer during the Boer War. He was a great walker. On Tolstoy Farm, he often tramped 42 miles in one day, if he had any personal business in the nearest city. He started at 2 a.m. with home made snacks, finished shopping and came back in the evening. Other colleagues followed his example cheerfully.
A tank was once being filled by some co-workers of Gandhi. On morning, after work, they came back with shovel, pickaxe and baskets and found their breakfast of fruits kept ready by Gandhi in several plates. One of them asked: " Why did you take so much trouble for us? Do we deserve this service from you? Gandhi replied with a smile: " Of Course, I knew you will come back exhausted. I had leisure to prepare your breakfast".
As a well known leader of the Indians in South Africa, Gandhi once went to London to plead the Indian settlers' cause. He was invited to a vegetarian dinner by the Indian students who decided to cook the meal themselves. At 2 p.m. a thin wiry man joined them in the underground cellar and helped them in washing dishes, cleaning vegetables and doing other odd jobs. Later the students leader came there and found that he was none other than their honored guest of the evening.
Gandhi was exacting but he disliked to make others work for him. At the end of apolitical conference, he was found dusting the floor of his rushed to help Gandhi fore retiring to bed. A follower rushed to help Gandhi who submitted with a smile. When on tour in villages if the oil in lantern got exhausted , he preferred to write letters in the moonlight rather than to wake up his tired in the companions. During his Naokhali march, Gandhi allowed only two companions to stay in his camp. They did not know how to prepare khakra. Gandhi entered the kitchen, sat in an expert's pose and demonstrated the process. He was then 78.
He was very fond of children. Two months after child's birth, he did not keep any of his sons under the care of a nurse or a maid. Love and attention from parents he considered essential for the development a child He could tend, feed and humour a baby like a mother. After release from South African jail, he once came home and found his friend's wife, Mrs Polak, thin and weary. She was trying to wean her baby from mother's milk. The baby gave her no rest and kept her awake by crying. That very night Gandhi took charge of the baby. After working hard for the whole day, delivering speeches in public meetings and trudging four miles, Gandhi sometimes reached home at one in the night , picked up the child from his mother's side and laid him on his own bed. He kept a jug of water ready near him to pacify the thirst of the child but it was needless. The child never cried and slept quietly. After a fortnight, the weaning effort proved success.
Gandhi's regard for the elders was great. When Gokhale stayed with Gandhi , he ironed Gokhales' scarf, made his bed, served him food and was ready to massage his feet. He paid no heed to Gokhale's objections. Before he became a Mahatma, he one came to India from South Africa and attended to Congress session. He cleaned the dirty latrines there and then asked a Congress leader: " What can I do for you?" He said: Heaps of letters are lying unanswered. I have no clerks to entrust this work to. Are you willing to do that?" Gandhi said: " Certainly. I am ready to do anything that is not beyond my capacity." He finished the work in a short time and volunteered to do a valet's job by buttoning the leader's shirt and attending to his other needs. Whenever the service of and experienced helping-hand was needed in the ashram. Gandhi insisted on employing Harijan servants in order to break the barriers of untouchability. His advice was: " We should not treat servants as paid labourers but as our brothers. There may be some trouble, some thefts , mote expense, still the effort will not be lost".
He never knew how to keep anyone as his servant but in Indian Jail, he once enjoyed the service of many co-prisoners. One cleaned fruits for him and another milched the goats. A third on served as a personal attendant. A fourth cleaned his closes. a Brahmin washed his dishes and two Europeans every day brought out his cot.
Gandhi was very happy to notice a living family tie between the noblemen of England and their domestic servants. At the end of visit to a host he was glad to be introduced to at the servants not as inferior beings but as members of the family.
Once bidding farewell to the servants of an Indian host, after a long stay, Gandhi said: " I cannot tell you how grateful I am to you. I have never in my life regarded any one as my servant but as a brother of a sister and you have been nothing less. It is not in my power to requite your services, but God will do so in ample measure."