Barrister Gandhi used to go to the court in a neat European dress. Everyday he needed a fresh clean collar to match his shirt. He changed his shirt every alternate day and his washing bill was heavy. The washer man was often late in delivering clothes. Gandhi had to spend a lot for a good stock of clothes. Even three dozens of shirts with collars were not enough to cope with the sweet will of the dhobi.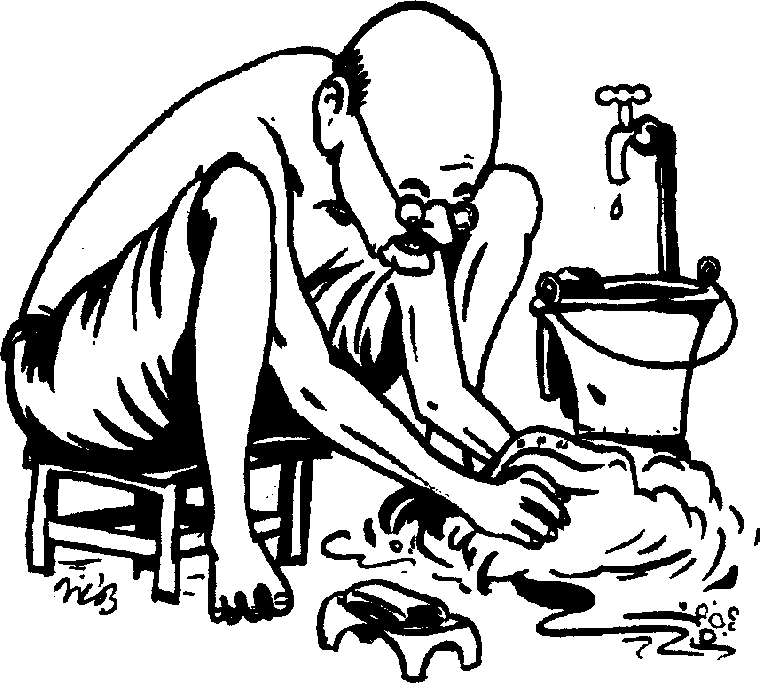 Gandhi wanted to cut down his expenses. One day he came home with a complete set of washing outfit. He bought a book on washing, he began to practise he got directions for good washing, he began to practise it. Poor Kasturba was not allowed to remain a spectator of the show. Gandhi taught her the art of washing. This new was an additional burden on Gandhi's defeat. He was determined to get rid of the washerman's tyranny and become self-reliant. One day he washed a collar and starched it. Not being used to the work, he ironed it with a not-enough-hot iron, putting little pressure. He was afraid to burning it. He went to the Court with that collar on. It was over starched and stood stiff. His friends chuckled at this sight. Gandhi was least disturbed and sail; " well, this is my first attempt in washing hence this overdose of starch. But it does not matter. At least it provided you with so much fun."
"But is there any lack of laundries here?" asked one. " No, the laundry bill is very heavy. The charge for washing a single collar is almost as much as its price and even then there is the eternal dependence on the washer man. I prefer by far to wash my things myself." Later he proved tone an expert dhobi.
Gokhale once came to stay with Gandhi who revered him as his guru. Gokhale was to attend a big party. His scarf got crumpled but there was no time to get it washed by a dhobi. Gandhi asked ; " shall I nicely iron it?" Gokhale replied ; " I can trust your capacity as a lawyer but not as a washerman . What if you spoil it?" Gandhi insisted and ironed it. Gokhale was pleased with the work. Gandhi was then so happy that he said that he did not care at all if the whole world denie4d him a certificate.
In his ashrams in south Africa, there was scarcity of water and women had to got distant spring for washing. Gandhi helped them. In the early stage of khadi production, very thick and heavy saris were woven on handlooms. The ashram women agreed to wear them but they grumbled when they had to wash them . Gandhi offered his services as a dhobi. He was not ashamed of washing other's clothes. Once he was the guest of a rich man. After entering the bathroom , he saw a clean dhoti lying on the floor. He finished his bath and washed that dhoti along with his own . He took them out to spread on the sun. He was particular about drying white clothes in the sun, as that made them look bright and killed germs. the host said in protest; " Bapuji what ate you doing?" Gandhi said; " why what's wrong in it? The clean dhoti would have got dirty , so I washed it. I am not a shamed of doing a bit for keeping things clean." Gandhi was not put to shame but his host was.
In jail, in his old age, Gandhi sometimes washed his loin-cloth, napkin and handkerchief and relieved his co-workers from doing extra work. During Kasturba's last illness in the Agakhan Palace Gandhi picked up handkerchiefs used by her and washed them.
He was particular about his dress all through his life. As a small boy, he competed with other boys in washing his fine mill dhoti white. He drew water from a well and washed it. Gandhi admired simple habits but hated shabby and rumpled clothes. He kept his loin-cloth, wrap and napkin spotlessly clean and increased. He was a picture of cleanness.