- By Saurabh Bhattacharya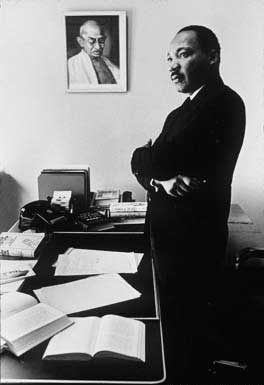 If it was a train ride that created Gandhi, it was a bus journey that made Martin Luther King. Once, as a kid, king was traveling ling distance on a bus with his teacher when the driver ordered them to get up for white passengers. "I decided not to move at all ," King recalled," but my teacher pointed out that we must obey the law. So we got up an d stood in the aisle the whole 90 miles to Atlanta. It was a night I'll never forget...." And he didn't.
Deeply influenced by the works of Gandhi while studying at the Crozer Theological Seminary in Pennsylvania, King made the struggle for civil liberty for African- Americans in the USA his sole motto. His weapons: faith in God and nonviolence. " From my background I gained my regulating Christian ideals", he later said, " From Gandhi, I learned my operational technique".
Although King became involved in the civil rights movement from his university days, his first major success came only in 1955 in Alabama. That year, a local black woman named Rosa Parks was arrested for refusing to surrender her seat to a white passenger. in protest, African-American activists boycotted the state's transport system and chose King as their leader. The boycott continued for 383 days until the US supreme court declared Alabama's racial segregation laws unconstitutional.
But the war had merely begun. After the Alabama, success, King organised the southern Christian leadership conference (SCLC). By then he was convinced that nonviolent resistance is the most potent weapon available to oppressed people in their struggle for freedom.
In 1963, King began a mass protest campaign in Birmingham. Demonstrations erupted across the country got galvanized by the events in Birmingham. Demonstrations erupted in cities and towns. In June, US President John F. Kennedy agreed to submit broad a civil rights legislation to the congress.
In December 964, King was awarded the Nobel Peace Prize. Aged 35, he became the youngest man to have received the award. Delivering his Nobel Lecture, King said: " Nonviolence is a weapon unique in history, which cuts without wounding and ennobles the man who wields it." Four years later, this apostle of peace was shot dead while addressing a gathering in Tennessee.
Martin Luther King Jr. was only 39 when he died, but in his short life he had gained the rare distinction of making his dream a reality.
Source: Life positive Plus magazine, October-December, 2002.
---
For more information, visit: