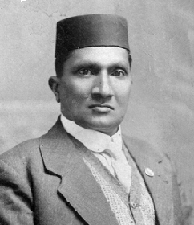 One of the first satyagrahis in the movement of 1906-14 in South Africa and a most loyal and courageous colleague of Gandhiji was Govindasamy Krishnasamy Thambi Naidoo.
1
Apart from defying the law and going to jail many times, he made a crucial contribution in mobilising the Tamils in the Transvaal to participate in the satyagraha and the workers in Natal to strike for the abolition of an unjust tax which caused enormous suffering.
Thambi Naidoo was born in 1875 in Mauritius where his parents had migrated from Madras Presidency.
2
According to his daughter, Thayanayagie (known as Thailema), his father was a prosperous fertilisers and cartage contractor in Mauritius. Thambi was his youngest son. One day, his father said to him, "You are my youngest son. You must think of the people before you think of yourself". Thailema continued:
"My father was very impressed by his father's seriousness when he said these words and he took them to heart and afterwards built his life on them and taught them to us his children".
3
He went to South Africa with his sister and brother and started business in Kimberley, centre of diamond mines, in 1889 when he was 14 years old. He moved three years later to Johannesburg when gold was discovered in the Transvaal. He started hawking fresh produce, set up shop on Bree Street and gradually expanded his business into that of a produce merchant and wholesaler. He also became cartage contractor.
His obituary in
The Star
and
Rand Daily Mail
(1 November 1933) reported that he had founded the Transvaal Indian Congress with H. O. Ally in 1893. If that is correct, this Congress was formed earlier than the Natal Indian Congress which Gandhiji established in 1894.
4
His public life began soon after arrival in Johannesburg when Law 3 of 1885, which restricted Indians to segregated locations, was put into operation. He had grown up in Mauritius where there were no humiliating restrictions as in the Transvaal, and he reacted with anger and determination. To quote his daughter Thailema:
"...there was a smallpox epidemic in the Indian location and the Indian traders, not only from the location but those living in Market Street where there was no smallpox, were excluded from the Newtown Market and their livelihood was threatened, while European traders from Market Street were allowed free access. Father was active among the organisers of a protest against this discrimination and when they threatened a protest march in Johannesburg the restrictions were removed from all except residents of the actual quarantine area. He also played a leading part in the formation amongst traders and other workers of the Tamil Benefit Society which looked after its members' interests..."
5
He led a deputation to Johannesburg Municipal Council when he was only 19. He was in a deputation to see President Kruger of the South African Republic and present a petition concerning the Law of 1885.
He collaborated with Gandhiji, when the latter settled in Johannesburg after the Anglo-Boer War, in resisting anti-Indian measures. He became a member of the executive of the Transvaal British Indian Association of which Gandhiji was secretary.
In September 1906, Transvaal Indians held a large mass meeting in Johannesburg in protest against the Asiatic Ordinance which required all Indians to carry certificates with impressions of ten fingers.. The meeting decided to refuse registration under the Ordinance (which later became Asiatic Act) and to go to jail if necessary. Thambi Naidoo seconded the resolution and explained it to the Tamil-speaking people in the audience.
6
When the satyagraha started in earnest in July 1907 with the picketing of registration offices, Thambi Naidoo was the chief picket in Johannesburg. He was arrested and served 14 days` imprisonment. On December 28th that year he was charged with Gandhiji for refusing to register and ordered to leave the Transvaal within 14 days.
7
On January 10th, 1908, he was sentenced with Gandhiji for disobeying the order. He did the cooking for the nearly two hundred fellow prisoners in the Johannesburg prison.
At the end of January, an agreement was reached between Gandhiji and General Smuts, Minister of the Interior, and the prisoners were released.
8
It provided for voluntary registration rather than compulsory registration. Gandhiji understood that the Government would repeal the Asiatic Act when the Indians and Chinese registered voluntarily.
In February 1908, after the Smuts-Gandhi agreement, Gandhiji was severely assaulted by Mir Alan, a Pathan who was probably influenced by false rumours and felt that the agreement was a betrayal. Thambi Naidoo went to his rescue and was also assaulted.
Indian Opinion
reported on 15 December 1908:
"... Mr. Thambi Naidoo engaged the attention of Mir Alam, who rained blow after blow upon him, which fortunately, Naidoo was able to ward off by means of an umbrella he was carrying at the time. Eventually the umbrella broke and one more blow felled Naidoo to the ground, his head being gashed, and when he was on the ground, further blows were struck at him and he was considerably bruised."
Almost all Indians registered voluntarily, but Smuts denied that he had promised to repeal the Act and negotiations between Gandhiji and Smuts to find a solution failed.. The Indian community then held a mass meeting at which the registration certificates were thrown into a large cauldron and burnt. Satyagraha resumed.
Thambi Naidoo repeatedly defied the law and went to prison. While the Satyagraha continued, he never thought of personal affairs, but only of the struggle.
It is said that once when he was leading a group picketing the registration office set up under the Asiatic Act, Gandhiji came to tell him that his wife had given birth to a stillborn child. Thambi Naidoo retorted: "Don't you see I am on duty? Go and bury the child yourself".
9
That does not seem quite correct; Thambi Naidoo was in prison when the child was born. The reverend Joseph J. Doke referred to this incident in
M.K. Gandhi: An Indian Patriot in South Africa,
the first biography of Gandhiji: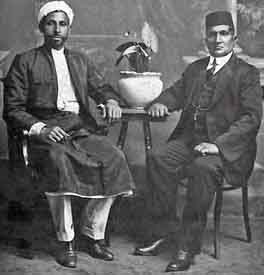 "When 'the old offender,' Mr. Thambi Naidoo, the Tamil leader, was sent to prison for the third time, to do 'hard labour' for a fortnight, Mr. Gandhi suggested that we should visit the sick wife together. I assented gladly. On our way, we were joined by the Moulvie and the Imam of the Mosque, together with a Jewish gentleman. It was a curious assembly, which gathered to comfort the little Hindu woman in her home - two Mohammedans, a Hindu, a Jew, and a Christian. And there she stood, her eldest boy supporting her, and the tears trickling between her fingers. She was within a few days of the sufferings of motherhood. After we had bent together in prayer, the Moulvie spoke a few words of comfort in Urdu and we each followed, saying what we could in our own way to give her cheer. It was one of the many glimpses, which we have lately had of that divine love, which mocks at boundaries of creed and limits of race or colour. It was a vision of Mr. Gandhi's ideal".
Indian Opinion reported on 8 August 1908:
"When Mr. Thambi Naidoo went to the Fort last week, he left Mrs. Naidoo in a condition wherein she anticipated almost immediate motherhood. On Sunday afternoon she gave birth to a son – still-born. The child was buried at the Braamfontein Cemetery on Monday afternoon."