- By Jayanta Roy Chowdhury, PTI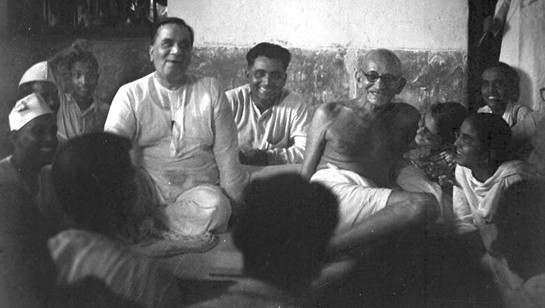 Mahatma Gandhi during his 73-hour fast in 1947 to broker peace between warring communities after Independence.
Image credit: The Telegraph Online
Two days before India became independent, Mahatma Gandhi drove down in a pre-World War Cadillac automobile into Kolkata's Beliaghata, a densely populated locality and the epicentre of rioting in the megapolis, to be greeted for the first time in his life by crowds which shouted 'Go back Gandhi'.
He had come to stay in a dilapidated single-storey building with Doric pillars situated in a tiny by-lane off Beliaghata main road, set between the sprawling Muslim slum of Miagunje and a lower middle class Hindu locality, to try to bring peace to the most populous city between Paris and Shanghai.
The city, India's capital till a few decades back and the nerve-centre of the country's political, cultural and industrial renaissance, was on the eve of Independence riven by intense communal rioting which had reared its head in the aftermath of Muslim League's Direct Action Day, a year before.
The house, named Hyderi Manzil, was in a sort of no-man's land in riot-hit Kolkata and had been selected by Hussein Suhrawardy, former Muslim League Premier of Bengal, at whose pleading the man dubbed 'One Man Boundary Force' by Lord Louis Mountbatten had agreed to come to Kolkata to try and bring peace to the "most troubled city on earth at that time".
"Gandhi came out and calmed the crowd that had gathered against him … that was the start of the work of the `One Man Peace Army' in this very city," said Papri Sarkar, secretary of the 'Purba Kalikata Gandhi Smarak Samiti' which runs Gandhi Bhavan, the new name given to Hyderi Manzil, which in 1947 was owned by a Bohra Muslim merchant family with the surname 'Bengali'.
The Mahatma is quoted as having reasoned with the angry crowd: "I have come to serve Hindus and Muslims alike. I am going to place myself under your protection. You are welcome to turn against me … I have nearly reached the end of life's journey … but if you again go mad, I will not be a living witness to it." The house itself had been selected by Muslim leaders of Kolkata led by Suhrawardy, who many blame for the August 1946 riots in the city termed as the 'Great Calcutta Killings', after Gandhi acceded to their pleas that he stays on in Kolkata in August to bring peace to the city instead of travelling to Noakhali where less than a year back Hindus had been massacred.
Their reasoning was that many more people risked being massacred in the city than anywhere else in the country and that peace here would act as an example for the rest of the country and calm down communal madness not only in Noakhali but even in distant Punjab.
Gandhi said as much to the crowd and vowed that just as he would fast unto death if Muslims killed people in Noakhali, he would fast unto death if Hindus ignored his message in Kolkata. The Mahatma had earlier stayed in Noakhali for four months to bring peace there and stop the anti-Hindu carnage.
He called Suhrawardy, who was staying with him in the house, out on to the porch of the building and made him address the crowd and "apologise for the riots which occurred during his premiership," recounted Sarkar.
"It was a brave decision to step into the middle of a carnage and it was certainly well thought out if not an audacious plan. The ripple effect of more heinous rioting in Kolkata would have been disastrous for the entire country," said Dr Kingshuk Chatterjee of Calcutta University's department of history who has specialised in political Islam.
"There is much to learn from him. He shunned both the talks to end British rule and chose to stay in Noakhali and then stayed away from the Independence Day celebrations in Delhi to bring peace in Kolkata," pointed out Aditya Mukherjee, professor of contemporary history and director, Jawaharlal Nehru Institute of Advanced Study.
On August 14, 1947, Gandhi held his last prayer meeting in British India to a mixed crowd of Hindus and Muslims at Hyderi Manzil and said, "From tomorrow, we will be delivered from the bondage of British rule, but India will be partitioned too. Tomorrow will be a day of rejoicing, but it will be a day of sorrow as well." "The mixed areas of Beliaghata had seen the most intense rioting in the run up to Independence. There were masjids and temples in the area and the slightest incident sparked off a bloodbath," Sarkar explained and added, "The frail figure of Gandhi fasting and addressing peace meetings had a strange, unexplainable effect … rioters suddenly started disappearing from the streets of the city." At 2 am in the night on August 15, a delegation of Muslims, who were planning to celebrate Independence Day by fasting, came to meet the Mahatma, they wanted to share their Sehri (meal before sunrise). Schoolchildren from both communities came at the crack of dawn at 4 am to sing nationalist songs in his compound as Gandhi began his own fast to bring peace.
"And then the miracle happened. Rioting stopped in Kolkata on August 15, that's why the press described it as the 'Great Calcutta Miracle," said Sarkar, a Gandhian and a social worker by vocation.
Amrita Bazar Patrika, a nationalist Indian-owned newspaper had a banner headline on the front page: "Fratricidal bloodbath suddenly ends: Miraculous change in city's atmosphere." The accompanying copy read: "Chaotic Calcutta is at last quite after the year-long travail that was about to suck everything noble in its soul…." Thousands of people from all walks of life and from all communities made their way to Hyderi Manzil on Independence Day to have a glimpse of the man whom India had recognized as the Father Of The Nation.
The entire Bengal cabinet led by the Premier Prafulla Chandra Ghosh trooped down to meet him. To them, his message was: "Beware of power … power corrupts. Do not let yourself be entrapped by its pomp and pageantry. Remember you are in office to serve the poor." "If Gandhi ji was still alive, then this situation of riots and conflict in the northeast and elsewhere may have been stilled," said Sarkar. Agreed Chatterjee, "We very badly need another Gandhi."
Courtesy: The Print, August 14, 2023.
This story is originally published by PTI News Services.