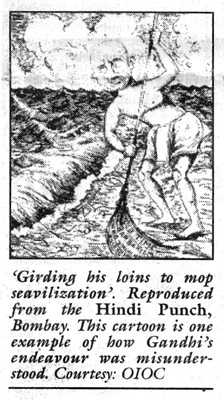 One of the most significant phenomena of our time has been the development of the cinema from a mere art form to a potential subject for study in terms of the issues that it raises and the supposedly influences it has on the spectators. It is now conceived as a versatile art form. Cinema not only provides a site for entertainment, but also a platform to reinforce certain values and ideals. In the same vein, if we trace the history of Indian cinema, we would find that Gandhian values and ideals have made their presence felt, to some degree, in Hindi films. Any movie on the Indian independence theme or any biography on a real life historical character around the independence era is incomplete without the mention of Mahatma Gandhi. This is not to deny the fact that there has always been a shift in the themes of Hindi Cinema which has in turn kept the Gandhian principles out of focus. On the other hand, it should not imply the complete ignorance or disrespect for Gandhian values. The paper looks into one such film -
Lage Raho Munna Bhai
(LRMB), released in the year 2006, which locates Gandhian values in the contemporary setting. The film revolves around the virtues and values of Mahatma Gandhi, propagated through the narrative, without merely being reduced into didactic preaching. The Gandhian era is believed to have been evoked in the 21st century through this film.
A sociological understanding of Satyagraha depicted in the film has been attempted by interviewing a sample of college goingstudents in New Delhi. Such an academic exercise was considered useful because sociology teaches us that films are not consumed passively by the audiences. Instead, they can be subjected to multiple interpretations by the active viewers. Usually, sociologically directed studies on cinema have either examined films as reflections of society and of social change or as articulations of identity. In this process, audiences are either invisible or relegated to the background as aggregate factors of class or gender. It therefore becomes essential to look for the multiple meanings of 'Satyagraha' as interpreted by the students and also the degree of reliability on such practice in their day-to-day activities.
The rationale behind considering
Lage Raho Munnabhai
(LRMB) as an example to examine the concept of Satyagraha and its meaning in contemporary India is because of its popularity and the potential use of Gandhian values in settling conflicts in everyday life. The film bases its story on a Gandhian theme where the intended message is that ultimately truth wins over falsehood and non-violent resistance over the use of brute force. The sample for this study was drawn from 60 students belonging to both the sexes in the age group of 17-21 years. All the students were attending undergraduate college in New Delhi, though in different years.
This paper attempts not only to make an analysis of the film and the discussion related to it but also to examine the relevance of concepts like 'Satyagraha' and 'non-violence' in the everyday life of the college going students. An analysis of the film is done to make the readers acquaint themselves with the storyline and the academic debates regarding the representation of Gandhian values in the film and the multiple interpretations of the film it can generate. This not only makes the study appear more sociological, but also puts forth an argument that film studies need not be confined to the writers or director's intentions and motives. Nor  should they be put under mere content analysis and academic debates; rather it requires understanding of the film and the meaning it conveys to the audiences.