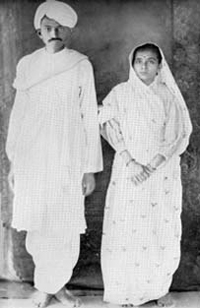 9 January 2015 marked the centenary of Mahatma Gandhi's return to India after his 21 years sojourn in South Africa. The day is now celebrated as the Pravasi Bharatiya Divas under the auspices of the Ministry of External Affairs.
Thus 9 January came to assume special significance after 11 September 2006 when Satyagraha, the most potent weapon discovered by Mahatma Gandhi completed its hundredth anniversary. It is a tribute not only to Mahatma Gandhi's leadership in India's struggle for independence but also to the contributions made by immigrant Indian in the country of their adoption and helped built bridges between the country of their origin and the country of their adoption. 9 January 2015, therefore, calls for special commemorative programmes appropriate for the historic occasion.
Mahatma Gandhi's arrival at this critical juncture proved to be a turning point in India's struggle for Independence. Even before his return on 9 January 1915 his work in South Africa was widely known in India. Gandhi himself took pains in acquainting Indian leadership with the problems faced by the Indian indentured labourers and the peoples of the Asiatic origin in South Africa. He wrote pamphlets, columns in the newspapers and would be present in India during the annual meetings of the Indian National Congress. He would get special time to speak on South Africa question. It was primarily because of his efforts that prominent leaders like Gopal Krishna Gokhale visited South Africa in 1912, to see for themselves the situation obtaining there. On their return they shared their experiences and observations with other leaders.
Gokhale's visit to South Africa symbolized the deep interest of the Indian people in the struggle of their brethren in that land under Gandhi's leadership. The moral and material support extended by the Indian people was indeed one of the important contributory factors in the success of that struggle. Thus it can be safely said that "by the time Gandhi returned to India in 1915 there was already in existence here a powerful Gandhi legend" as Pherozeshah Mehta, one of the most prominent Congress leaders of those days, observed at a function held in Gandhi's honour in Bombay, on 12 January 1915 after his arrival on Indian soil.
During the preceding years the whole country had been resounding with the tale of his great deeds. It is equally remarkable that while eulogizing Gandhi, Pherozeshah Mehta did not refer to his preaching of non-violence, Satyagraha (this came to occupy center –stage in Indian politics only after the success of Champaran Satyagraha in 1917) but only to his role in enabling Indians in South Africa to maintain their self-respect and honour.
The same drive for leadership and determination marked Gandhi's steps in his work for the public cause, informed by the conviction that the technique of struggle he had developed in South Africa would be equally applicable to India. Although full of deep affection and reverence for Gokhale, whom he even described as his political guru, Gandhi did not identify himself with the Moderate line in Indian politics. On the other hand, he also kept aloof from the Extremists. In the words of his eminent biographer B. R. Nanda: "Gandhi made nonsense of Extremists and Moderate politics and forged his own path"  His intention obviously was to project before the Indian people his own independent approach to India's problems as well as his distinctive style of leadership. There is also no doubt that he was able to do so in an admirable way, turning almost every major occasion that he got to work before the public eye into a step leading to India's Independence.
Thus in one of his first speeches in India, while replying to the address of welcome in Bombay on 12 January 1915 in a function presided over by Pherozeshah Mehta at which about six hundred distinguished citizens, including Europeans, were present. Gandhi declared, apparently with the opulence and luxury of the life of the Indian elite in Bombay in mind, that he and his wife had felt more at home with the poor, indentured Indians in South Africa than in their own motherland.
I say that I am not at war with my leaders I seemed to be at war with my leaders because many things I have heard seem to be inconsistent with my notions of self-respect and with self-respect to my motherland. I feel that they are probably not discharging the sacred trust they have taken upon their shoulders…. The major part of what they say does not seem to be appealing to me. I find here words of welcome in the English language. I find in the Congress programme a Resolution on Swadeshi. If you hold that you are Swadeshi and yet print these in English, then I am not Swadeshi."
It is significant to note that in his very first public address on the Indian soil Gandhi made it clear that for him adoption of Hindi is central to his concept of Swadeshi.
Leadership in a certain situation goes only to the person who meets the requirements of that situation. This is very well brought out by Hegel in his characterization of the attributes of great men: " They are great men, because they willed and accomplished something great; not a mere fancy, a mere intention, but that which met the case and fell in with the needs of the age."
Much before this Aurobindo Ghosh, a great intellectual and one of the most prominent Extremist leaders, who inspired and maintained links also with some of the revolutionaries, had understood the nature of the crisis faced by the nationalist.
"All great movements wait for their God-sent leader, the willing channel of force, and only when he comes, move forward triumphantly to their fulfillment. The men who have led hither to have been strong men of high gifts and commanding genius, great enough to be the protagonists of any other movement, but even they were not sufficient to fulfill one which is the chief current of a world-wide revolution. Therefore the nationalist party, custodians of the future, must wait for the man who is to come, calm in the midst of calamity, hopeful under defeat, sure of eventual emergence and triumph and always mindful of the responsibility which they owe not only to their Indian posterity but to the world."
It is not known whether Gandhi had read these lines. What is pertinent is that he had all the qualities which Aurobindo had by implication mentioned as essential for the future leader of Indian nationalism and, besides, had already begun treading the path which led to that position.
Jawaharlal Nehru celebrates the coming of Gandhi thus:
"And then Gandhi came. He was like a powerful current of fresh air that made us stretch ourselves and take deep breaths; like a beam of light that pierced the darkness and removed the scales from our eyes; like a whirlwind that upset may things, but most of all working of people's minds. He did not descend from the top; he seemed to emerge from the millions of India, speaking their language, and incessantly drawing attention to them and their appalling condition. Get off the backs of these peasants and workers, he told us, all you who live by their exploitation; get rid of the system that produces this poverty and misery. Political freedom took new shape then and acquired a new content. Much that he said we only partially accepted or sometimes did not accept at all. But all this was secondary. The esse3nce of his teaching was fearlessness and truth, and action allied to these, always keeping the welfare of the masses in view. The greatest gift for an individual or a nation, so we had been told in our ancient books, was abhaya (fearlessness), not merely bodily courage but the absence of fear from the mind. Janaka and Yajanvalkya had said, at the dawn of our history, that it was the function of the leaders of a people to make them fearless. But the dominant impulse in India under British rule was that of fear –pervasive, oppressing, strangling fear; of the official class; fear of laws meant to suppress and of prison; fear of the moneylender; fear of unemployment and starvation, which were always on the threshold. It was against this all-pervading fear that Gandhi's quiet and determined voice was raised: Be not afraid. Was it so simple as all that? Not quite. And yet fear builds its phantoms which are more fearsome than reality itself, and reality, when calmly analysed and its consequences willingly accepted, loses much of its terror.
So, suddenly, as it were, that black pall of fear was lifted from the people's shoulders, not wholly of course, but to an amazing degree. As fear is close companion to falsehood, so truth follows fearlessness. The Indian people did not become much more truthful than they were, nor did they change their essential nature overnight; nevertheless a sea-change was visible as the need for falsehood and furtive behaviour lessened it was a psychological change, almost as if some expert in psycho-analytical methods had probed deep into the patient's past, found out the origins of his complexes, exposed them to his view, and thus rid him of that burden.
There was that psychological reaction also, a feeling of shame at our long submission to an alien rule that had degraded and humiliated us, and a desire to submit not longer whatever the consequences might be.
We did not grow much more truthful perhaps than we had been previously, but Gandhi was always there as a symbol of uncompromising truth to pull us up and shame us into truth. What is truth? I do not know for certain, and perhaps our truths are relative and absolute truth is beyond us. Different persons ma and do take different views of truth, and each individual is powerfully influenced by his own background, training, and impulses. So also Gandhi. But truth is at least for an individual what he himself feels and knows to be truth. According to this definition I do not know of any person who holds to the truth as Gandhi does."
But the most prophetic thoughts so early in Gandhi's tryst with India's future were expressed by Rabindranath Tagore. Not surprising for soon after his arrival in India on 9 January 1915 Gandhi visited Shantiniketan to pay his respects to Tagore. Gandhi had heard about Tagore's experiments in education. A group of young boys from Gandhi's Phoenix Settlement in South Africa had preceded his arrival on 9 January 1915 and were put-up at Shantiniketan under Tagore's care. Gandhi met Tagore on 1 February, 1915.
Tagore wondered, "Perhaps he will not succeed. Perhaps he will fail as Buddha failed and a Christ failed to wean men from their iniquities, but he will always be remembered as one who made his life a lesson for all ages to come".
While not joining any movement or agitation in which he would not have a decisive role, Gandhi was in his own way spreading his ideas and looking forward to opportunities for testing his method of struggle developed in South Africa. This was clear even from the choice of name –Satyagraha Ashram –which he gave to the place he selected in Ahmedabad in 1915 as the habitat for himself and some of his close companions and followers. As he himself puts it: "I wanted to acquaint India with the method I had tried in South Africa, and I desired to test in India the extent to which its application might be possible. So my companions and I selected the name 'Satyagraha Ashram',   as conveying both our goal and our method of service".
Gandhi firmly believed that basic social changes leading to the establishment of a just society cannot be brought about merely by state action and that the people themselves will have to play the major role in this process. In Satyagraha Gandhi provided an ideal means to the people to perform such a role. If dictatorship by a party or a group, involving the suppression of all other parties or groups and the denial of certain vital human freedoms, like the freedom of speech or expression, has not to become an essential ingredient of an enlightened society, it is difficult to imagine a better means than Satyagraha for bringing it about.