Urvish Kothari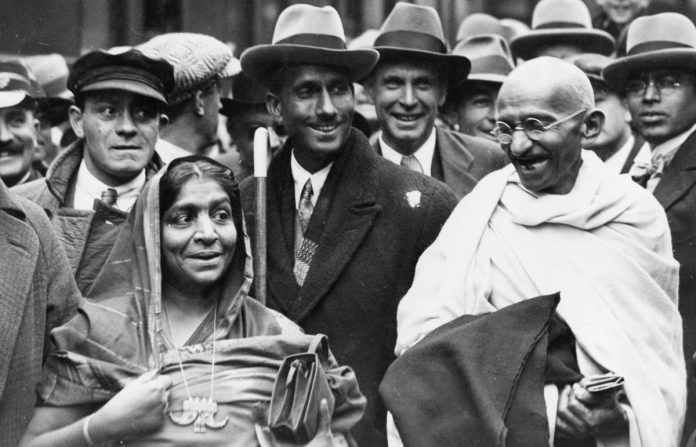 Mahatma Gandhi at Boulogne station with Sarojini Naidu | Douglas Miller/Getty Images
Mahatma Gandhi was a man who was interested in a lot of things. But cinema was an exception. In fact, he abhorred films.
Replying to a question at his prayer meeting, he refused to buy the argument that films can be useful for moral teaching. He was not comfortable with the idea of sitting in a "closed theater without ventilation", not to mention the other aspects of the films. Criticising glamorous photos of heroes and heroines in newspapers, he said he would love to open spinning theaters instead of film theaters. (27-5-1947, New Delhi).
But Gandhi saw two films during his lifetime. And, both were in quick succession. The first one was Mission to Moscow (1943). As industrialist Shanti Kumar Morarjee noted in his memoirs, Gandhi's associate Mirabehn convinced Bapu to watch it. Gandhi was staying in a shack in the compound of Narottam Morarjee's family bungalow at that time, after his release from the Aga Khan Jail.
One day, Shanti Kumar noticed that poles were being put up in the compound to bring electricity connection. He was informed that the arrangement was being made to show a film to Gandhi. Permission for this was sought from the local municipality.
The show was arranged on the evening of 21 May 1944. Although the film was based on the memoirs of US ambassador to Russia Joseph Davies, some dancing scenes featuring scantily clad women horrified Gandhi. Shanti Kumar wrote that Gandhi even scolded people there "for showing such nude dances" to him.
It was after this show that Kanu Desai, noted artist and art director, insisted on showing Gandhi a Hindi film Ram Rajya. Desai was the art director of the film, which was produced by Vijay Bhatt of Prakash Pictures. Shanti Kumar had seen the film and was sure Gandhi would not like it. But he had to yield to Kanu Desai's insistence. According to him, Gandhi said, "I will have to see an Indian film as I have made the mistake of watching an English one." The show was arranged on 2 June 1944.
After more than five decades, I had a chance to meet director-producer Vijay Bhatt as well as actor Umakant Desai (who played Laxman in Ram Rajya) at their residences. It was a badge of honour for them that Gandhi, the man who famously asked 'who is Charlie Chaplin' before their meeting in London, saw their film. It was publicised as the only film Mahatma Gandhi saw.
FilmIndia, the famous film monthly, published a cartoon portraying several producers queuing outside Mahatma's residence with their films.
The popular myth about Ram Rajya was that Gandhi initially agreed to watch it only for half an hour, but liked it so much that he saw it till the end. But Shanti Kumar's notes offer a very different version. According to him, Gandhi totally disliked it, especially because of the shouting and uproar in the film.
Even as he opposed movies, Gandhi wasn't opposed to performing arts. He was a lover of good music. During his days in Calcutta in 1947, he enjoyed bhajans sung by reputed bhajan singer Juthika Roy. Roy narrated her meeting with Mahatma to me as an experience of a lifetime. It was Sarojini Naidu, another fan of Roy, who prompted her to see Gandhi at least once.
When Gandhi came to violence-torn Calcutta in 1947 and stayed at Haidari Mansion in Beliaghata, Roy went with her family for a darshan. "Abha Gandhi told us about Gandhiji's tight schedule", recalled Roy. "But she said Bapu would listen to your bhajans while taking bath."
His grandniece Manu Gandhi in The Miracle of Calcutta noted: "Bapuji was having his bath while Shrimati Jyotika Ray sang her sweet devotional songs outside his bathroom. He was highly pleased… He could not spare special time to hear her sing, so he requested her to do so while he bathed. He could hear her well". (24-8-1947)
Another famous singer of non-film songs, Jagmohan 'Sursagar', was asked about his profession during his meeting with Gandhi. When he learned that Jagmohan specialises in romantic songs, Gandhi suggested that he sing something for children and told him to record 'Saptkand Ramayan', which he did promptly.
Filmindia of March 1940 sensationally announced 'Mahatma Gandhi becomes a film star'. It was about a documentary called Mahatma Gandhi under production by A.K. Chettiar of Documentary Films Ltd., Madras. The report said the documentary will be made in Tamil, Telugu and Hindustani as well as for the foreign audience. "If the war does not interfere with the plans, the films will be seen throughout the world in as many as 21 languages," it said.
Chettiar recorded a message from Romain Rolland for the film, secured the footage of Gopal Krishna Gokhale's reception at Johannesburg in 1912 among other rare recordings. "Mr Chettiar was privileged to remain for several days in the ashram at Shegaon and quietly filmed the daily routine of the Mahatma," the Filmindia reported.
Had Gandhi been alive, he would have certainly been amused to see the variety of films portraying him today.
Courtesy: The Print, 2.10.2018