- By Swapnajit Kundu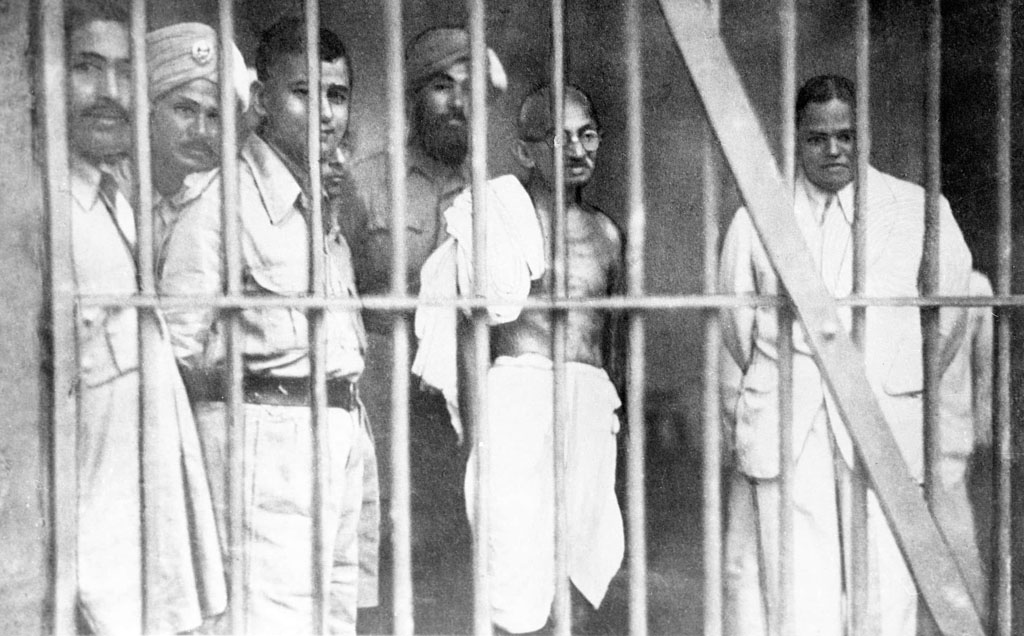 Since taking over the leadership of the Indian freedom struggle, Mohandas Karamchand Gandhi rarely let a day pass without criticising and protesting against the British Raj in this country. In order to achieve independence for his country, Gandhi employed the method of nonviolent resistance. But despite that, he used to be imprisoned by the British Indian government more often than not because of his ability to inspire an entire nation to rise against the colonial powers. Gandhi was indomitable, and the terms in jail seldom managed to curb his spirit. Throughout his life, Gandhi led several campaigns all over the country to reduce poverty, increase women's rights, build religious and ethnic amity, end untouchability, and, achieve independence.
---
The imprisonment in 1908
In 1893, a 23-year-old Gandhi set sail for South Africa as a lawyer to fight a case. He spent 21 years there and developed his political views, ethics and politics. He faced discrimination because of his skin colour and heritage and he initially struggled to understand how some people can feel honour or superiority or pleasure in such inhumane practices. In 1897, when Gandhi went to Durban, a mob of white settlers attacked him and he escaped only through the efforts of the wife of the police superintendent.
In 1906, the Transvaal government introduced a new Act which called for mandatory registration of the colony's Indian and Chinese populations. On September 11, Gandhi adopted his still-evolving methodology of Satyagraha (devotion to the truth) for the first time at a mass protest gathering in Johannesburg. On January 10, 1908, he was arrested for not registering or leaving Transvaal. He was sentenced to two months of simple imprisonment and was released on January 30 following a compromise.
---
Another arrest in 1908
During his stay in South Africa, Gandhi was returning from Natal when he asked to show his registration and he was unable to do it as he had burnt the registration. As a result, he was sentenced to imprisonment with hard labour.
---
The arrest in 1909
Mahatma Gandhi was arrested on February 25, 1909, and was sentenced to three months of imprisonment at Transvaal for not producing the required registration certificate.
---
The 'great march' in 1913
In October 1913, Gandhi, along with over 2000 satyagrahis embarked on a march from Natal in South Africa over the border into the neighbouring province of Transvaal. It was an act of protest against discriminatory laws which, amongst other things, made it difficult for Asians in South Africa to move around the country and also illegalised non-Christian marriages. Gandhi was arrested three times during the march, on November 6, 8 and 9 respectively. And on each occasion, he managed to return to continue the protest.
---
The imprisonments in India
On April 10, 1919, Mahatma Gandhi was arrested at Palwal on his way to Amritsar and was taken back to Bombay (now Mumbai) where he was released on April 11.
---
The charge of sedition in 1922
On March 10, 1922, Gandhi was arrested on sedition charges in Bombay by the government. He was sentenced to six years in prison for his involvement in protesting the British colonial government in India. He served the jail sentence for two years before being released for medical reasons (he had appendicitis).
---
The arrest during Dandi March
The Salt March or Dandi March was an act of nonviolent civil disobedience led by Gandhi. The march began on March 12 and lasted till April 5, 1930. It was a direct action campaign of tax resistance and nonviolent protest against the salt monopoly of the British government. When Gandhi broke the salt laws of the British Indian government on April 6, 1930, it triggered large-scale acts of civil disobedience against the salt laws all over the country. On May 5, 1930, he was arrested at 12.45 a.m. at Karadi near Dandi for violating salt law. He was sent to jail without trial and was released on January 26, 1931, unconditionally.
---
Subsequent arrests
On January 4, 1932, Gandhi was arrested in Bombay at 3 am and taken to Yerawada Jail. On May 8, 1933, as he started fast was released at 6 pm.
On August 1, 1933, he was arrested early morning in Bombay following his march toward a village and released on August 4 at 9 am and was asked to leave the jail premise by 9.30 am. Gandhi refused to comply, and so was arrested on the same day at 9.50 am and sentenced to one-year imprisonment. On August 16, he started a fast and was released unconditionally on August 23 due to a serious health condition.
On August 9, 1942, he was arrested under Defence of India Rules in the early hours of the morning following the 'Quit India' resolution and was lodged in Agakhan Palace Jail. He was released unconditionally on May 6, 1944.
Courtesy: News9 Live, dt. 27.03.2023