During his tour of Southern India in connection with the anti-untouchability movement, an incident took place in Badagara in Malabar which visibly moved Gandhiji. In response to his appeal at the public meeting there a girl named Kaumudi came forward and gave up her bangles. Although Gandhiji was satisfied with it the girl was not. She then took out her gold chain from her neck and gave it to him. Gandhiji thought that the presentation would end there. But the girl was not to be stopped. Her hands almost unconsciously traveled to her ears and a pair of beautiful jewelled ear-rings were passed on to him.
This incident, said the Mahatma later, touched his heart and gave him fresh inspiration. He had tried to conceal his emotion, but he could not say how far he suc­ceeded. Gandhiji asked if the girl had her parents' consent for this presentation. Her father was only pleased. All the girl asked for in return for the ornaments was an autograph, but Gandhiji was prepared to give her much more than that. He wrote on a piece of paper in Hindi a sentence to the effect that more beautiful than all ornaments she had given up was her willingness for sacrifice, and signed under it. The girl was very much pleased and she promised not to replace the ornaments.
---
A Little Girl's Sacrifice
When towards the close of his tour Gandhiji arrived at Udipi, in South Kanara, an address in Hindi on behalf of the local Hindi Prachar Sabha was presented to him along with other public addresses. This Hindi address was read by a nine-year old girl named Nirupama, daughter of a couple who were devoted Congress workers. She had been taught by her parents from her childhood to speak, read and write in Hindi. When she had finished reading the address and was presenting the same to Gandhiji, she was asked by the latter whether she would give him the ornaments she was wearing along with the address. On this she removed the gold chain from her neck and handed it over to him. "What about this thing ?" Gandhiji asked her, pointing to the bangles on her wrists. She extended her hands for him to remove them, but while he began to do so he noticed tears on her cheeks. He returned the bangles to her, giving a gentle tap on her cheeks and saying, "I see you are weeping. I cannot accept your gift with tears on."
The girl's parents were not present on the occasion, being busy looking after the arrangements for Gandhiji's stay in the town. When she, along with Gandhiji and others, arrived later at his residence, her mother, on hearing of the incident, asked her daughter to give away the orna­ments. Nirupama then gladly removed the bangles from her hands and presented them to Gandhiji. She next started removing her ear-rings, but Gandhiji stopped her saying, "Keep it, that is for you. This is enough." He expressed his great pleasure at her sacrifice and asked her whether she would promise him that she would not wear any ornaments on her person in future. She readily gave him that promise.
It is full two decades since the incident took place. Nirupama is now a practising doctor (M.B.B.S.). She has kept her word given to Bapu. You will not find a single trinket on her person. Bapu kept up correspondence with her for a while and two of his letters to her read as follows :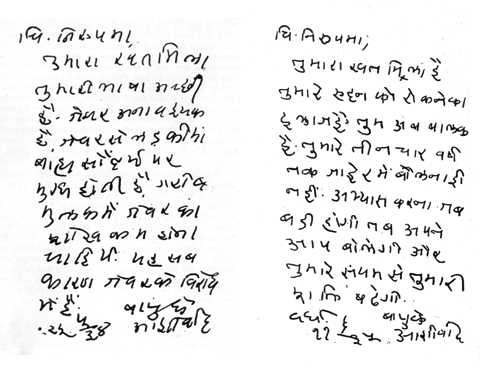 An English translation of the Hindi letters is given below :
"Chiranjeevi Nirupama,
I have received your letter. Your language is good. Ornaments are unnecessary. They create in the girls a fascination for outward beauty. In this land of poverty there should be a little (less, attraction for ornaments. That is why I am opposed to ornaments.
23-5-'34
Bapu's blessings."
---
"Chiranjeevi Nirupama,
I got your letter. Against your tendency to cry there is a remedy. You are still a child. For three or four years more you should not speak in public. During this period you should practise speaking. When you have grown bigger, you will learn to speak automati­cally. This practice of control will increase your ability.
Wardha, 11-6-'35
Bapu's blessings."