GANDHI MUSEUMS - ASHRAMS - LIBRARIES > SEVAGRAM ASHRAM, WARDHA, MAHARASHTRA, INDIA > Kasturba
Kasturba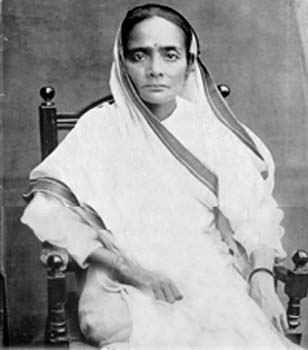 Kasturba was brought up in traditional surroundings. It took some effort on her part to remove the feeling of untouchability from her mind and behaviour.
Kasturba had four sons-the eldest son often criticised his father. He changed his religion and remained as a Moslem for sometime. Though he lived separately from his parents, Kasturba always had a feeling of love and concern for him. Gandhiji's other three sons engaged themselves in his work.
Kasturba was the mother figure for Ashram. She had undergone prison sentences in South Africa. In India also she was jailed many times. She died when she was with Gandhiji in jail at Pune. On her death Rupees one crore and twenty five lakhs were collected and presented to Gandhiji, who in turn formed a charitable trust in her memory and donated that money for the welfare of women. The institution located at the Kasturbagram, Indore is still active in many parts of the country.