Gujarat State (in India) suffered Major Earthquake of the century

---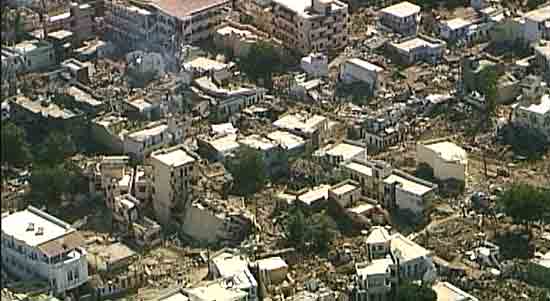 Arial View of Earthquake in Gujarat State, India. On 26th January, 2001 at 8.46 a.m. (IST)

---
Twenty thousand feared dead and 50,000 people injured in Gujarat quake
Fifteen thousand feared dead in Kutch
Relief goods for earthquake victims are exempted from tax
Haj flights from Gujarat postponed due to earthquake
Fresh tremors felt in Bhuj upto 4.6 on the Richter scale
Prime Minister leaves for Gujarat to assess damage
IOC restores supply of petroleum products to Gujarat
Train services to extend till Idanagar 104 kms from Bhuj
US pledges $5 million in aid, to send in seven-member team
Cellphone services restored to Bhuj
Zydus Cadila provides free medicines in Ahmedabad
Zydus Cadila Medical Control Room: 079-6770100
Cell Force helpline in Gandhidham: 9825114322
Earthquake control room Ahmedabad: (079) 6578369
Gandhinagar Helpline: (02712) 51911-17, 49256
Bhuj Helpline: (02832) 50444
People can call to establish contact with affected areas
Indian Airlines resumes daily flight between Mumbai and Bhuj
Victims can send text messages to any mobile GSM phone
Orthopaedic surgeons desperately needed in Gujarat
Tremors in Bangalore, citizens panic
Gujarat CM asks people to be on alert for the next 48 hours as strong tremors shake Ahmedabad and Kutch
Thousands flee Ahmedabad
Centre issues a blank cheque to Gujarat for relief, directs the RBI not to put a cap on funds
PM appeals for contributions to the National Relief Fund
National Housing Bank announces Rs. 500 crore for two programmes for repair and reconstruction
23 people including 10 school children rescued from school building debris
CRPF sends six companies of RAF for rescue operations
Kandla Port begins receiving ships with relief supplies
Schools in Gujarat will remain closed till February 4
All commercial flights to Bhuj will land in Jamnagar, passengers will be taken by road to Bhuj
Train services will now extend up till Itanagar which is 104 kms from Bhuj
Army sets up 340 field hospitals across the state
Rapar, in north Gujarat, is among the worst affected areas by Friday's quake
Earthquake control room has stressed an urgent need for orthopaedic surgeons
Earthquake control room asks for structural engineers to check standing houses
Earthquake control room appeals for concrete and gas cutters
Rescue teams from US, Russia, Germany, Japan and Switzerland in Gujarat
PM Vajpayee asks NCC cadets to come forward to help in relief work
Team of over 200 surgeons sent to affected areas
20 HAM operators airlifted to Bhuj
Bachau, Bhuj and Rapar talukas in Kutch identified as worst hit
Bhuj Air base only linked to Kutch district
Mundra Port in the Gulf of Kutch is intact
Norway extends emergency aid worth $1.11 million
US President offers assistance to India and Pakistan
Dutch ministry for development and cooperation announces $420,000 relief for quake victims
Andhra gives Rs. 5 crore, Rajasthan offers Rs. 20 lakh
EU, Russia offer assistance for relief operations
UN ready to support earthquake relief effort
Ninety per cent of the houses in Bhuj have developed cracks
Army pressed into service for rescue operations
Bhuj Air Base badly damaged, Nallia and Jamnagar air bases suffer minor damage
Parts of Jaisalmer Fort and Haveli damaged due to quake tremors
Quake damages several houses and high-rise buildings in Maharashtra

www.lohanaonline.com Relief Fund

Several cities in Gujarat were devastated by a powerful earthquake on
Friday, January 26.
www.lohanaonline.com has taken the lead to rush assistance to the affected
people by setting up a relief fund.
In providing material assistance and moral succor to the victims of the
calamity, The team at www.lohanaonline.com reaches to join hands with its esteemed
visitors and members of the community.
Kindly visit the link below and find out about the earthquake and find some
EXCLUSIVE PICTURES,
Which are enough to send tremors down your spine.

http://www.lohanaonline.com/newsnviews/quake_news.htm

All we say is HELP LO TO HELP BETTER,
Regards
Neha
(www.lohanaonline.com)

Addresses
INDIA
UNITED KINGDOM
CANADA
LOHANAONLINE.COM
3rd Floor, H.K.Complex,
Opp. Dharnidhar Derasar,
Paldi,
Ahmedabad - 380 007.
Phone : +91 79 6640071, 6640671, 6632265, 6632390, 6609530.
Fax : +91 79 6612843
Mobile: 9825124907
Email: lohana@lohanaonline.com
LOHANAONLINE.COM
Mr.Mahesh Kotecha
1, Leygreen Close,
Luton,
Lu2, 0sq
UK
Phone : 01582 424555

Ramesh M. BhayaniPresidentLohana Cultural Association of BC1110 Dublin StreetNew Westminster BC V3M 2Y9 Canadaphone/fax 604-520-0187e-mail rmb011@home.com 
---
Helpline Numbers
Birla AT&T has set up cellular helplines - 98240-1234. This will send the text messages to any mobile GSM anywhere in the world.


Gandhinagar: 51911-17 and 49256. STD Code: 02712


Bhuj: 50444. STD Code: 02832.


Ahmedabad: 5630200, 6578369 STD Code: 079
Contact: Mr. Bhatia


NGOs
SEWA - 079-5506474,079-5506444
Social Justice Centre - 079-6769248
Janpath - 079-6813029
Swati - 02754-60338
Red Cross Society - 011-3716411, 3716442

Railways and Airlines Information:
Delhi, Mumbai, Kolkata, Chennai and Bangalore to run special trains


5 special trains to transport doctors and relief to Gujarat.


Railway information cells set up for special trains

Contact Numbers:

New Delhi -- (011) 3405148
Railway Minister's office
(011) 3381213
(011) 3386645
Mumbai -- (022) 2017420
Kolkata -- (033) 4397928
(033) 2489494
(033) 6602743
Chennai -- (044) 5358164
Ahmedabad -- (079) 2111413
Bangalore -- (080) 2876410.



Indian Airlines operates special flights to Ahmedabad from Delhi and Mumbai.


For those who want to help
For free transport of relief goods contact (011) 335 2476 Crisis Management Group appeals to people for clothes.


Doctors wanting to help can contact Ahmedabad Medical Association at 6588775. STD code: 079.


Cash donations for the victims can be sent to the PM's relief fund, to Gandhinagar control room.


Earthquake control room number in Ahmedabad is 6578369. STD code: 079.


Earthquake control room asks for structural engineers to check standing houses.


Earthquake control room appeals for concrete and gas cutters.


Earthquake control room has stressed an urgent need for orthopaedic surgeons
More Information
Ahmedabad
For enquiries about building collapses contact Ahmedabad Municipal Corporation (AMC) - (079) 5353858


City Police Control Room Number- (079) 5630100/5630200


V S Hospital Resident Medical Officer (RMO) - (079) 5677621 (five lines)


L G Hospital Resident Medical Officer (RMO in Maninagar- (079) 5461380


Shardaben General Hospital Resident Medical Officer (RMO) in Saraspur- (079) 2164261


Civil Hospital Resident Medical Officer (RMO)- (079) 2683721


Police Surat (0261) 472106, Rajkot (028s1) 459888, Ahmedabad (079) 5633636, Baroda (0265) 431414


Collector's Office Bhuj (02832) 50020 Ahmedabad (079) 5508989, 5508890, 5508077 Jamnagar (0288) 555869 Bhavnagar (0278) 428822 Surat (0261) 471121 Baroda (0265) 433000 Rajkot (0281) 73900
The terrible disaster in Gujarat demands immediate action and international solidarity. GandhiServe in co-operation with Rajkot-based Prabhudas Gandhi Memorial Trust and other Gandhian institutions and local social action groups, renders non-bureaucratic help to the victims of the earthquake by providing help in their basic needs.
Please help us to help those who suffered terrible losses and pain in these days! Your donation will reach straight to those who badly need it. We'll report about the campaign in detail on our website in the coming weeks. GandhiServe
founder Peter Ruhe and staff member Jayan Mitra have joined the rescue and relief work in Gujarat.
Please send your donation by providing your credit card details and the amount to
admin@gandhiserve.com
, subject: Gujarat Earthquake Relief Campaign.

For safety reason you may wish to split your credit card details in two
emails, e.g.
first email: VISA 1234 5678 XXXX XXXX, valid upto XX/XX
second email: VISA XXXX XXXX 9012 3456, valid upto 01/02

or send a fax to: +49.30.7434787
---