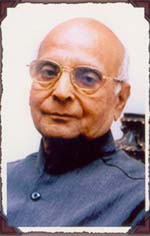 NAME : CHANDRASHEKAR SHANKAR DHARMADHIKARI
BIRTH DATE & PLACE : 20th November, 1927 at 'Raipur' (Madhya Pradesh)
EDUCATION : M.A.L.L.B of Nagpur University.
PROFFSSION : Lawyer since 1954 to 1972.
APPOINTMENT :
Was Government Pleader, High Court of Bombay, Nagpur Bench from 1965 to 1972.

Was appointed as the Judge of the High Court of Judicature at Bombay w.e.f. 13th July, 1972. Was Acting Chief Justice of the Bombay High Court. Retired on 20th November, 1989. Was Chairman of Maharashtra Administrative Tribunal from 7th July,1991 to 20th November, 1992.

At present:-

Chairman, Dahanu Taluka Environment Protection Authority.

Chairman, Vidhi Anuvad va Paribhasha Sallagar Samiti, Govt. of Maharashtra.

Chairman, Committee To Monitor Animal Welfare Laws in Maharashtra

Chairman of the Committee for Suggesting Ways and Means Regarding Atrocities on Women (Government of Maharashtra)
FAMILY INFORMATION :
Belongs to the family of lawyers. His grandfather Shri. T. D. Dharmadhikari was in judicial Service and was A. D. J. was known for his integrity and uprightness.

Brother Late Y. S. Dharmadhikari was Advocate General of Madhya Pradesh.

Son of Acharya Dada Dharmadhikari, well-known Gandhian Thinker and Freedom Fighter. Who took part in all the movements launched by Gandhiji and was imprisoned several times.

Mother, Late Smt. Damayanti Dharmadhikari took part in individual Satyagraha in 1941 and Quit India Movement of 1942 and was imprisoned for about three years.

Wife, Late Mrs. Tara Dharmadhikari is M. A. (Economics) and held Diploma in Journalism and was Deputy Director, Information and Publicity, Government of Maharashtra and Editor, Lokrajya. She died on 02nd April 2007.

Daughters, Aruna Patil is Doctor.

Sons, Satyaranjan is judge of High Court of Bombay and Ashutosh is an Advocate.
SPECIAL ACTIVITIES :
Took part in Quit India Movement of 1942. The Government of Maharashtra in recognition of his Services as Freedom Fighter, sue motto, included his Name in Prestigious List of Freedom Fighters.

Was associated with Student's Movement and was Secretary of National Union of Students,

Was President of :

Rashtriya Mill Mazdoor Sangh. Union of the Employees of Textile Mills at Nagpur for about five years.

Actively associated with Educational, Social and Cultural Organisations.

Was Chairman of Educational Regulatory Authority;

Was President of Kusumagraj Pratisthan and Gandhi Memorial Leprosy Foundation, Wardha and Yusuf Meherally Centre.

Was Vice President of :

Vidarbha Rashtra Bhasha Prachar Samiti.

Maharashtra State Free Legal Aid and Advice Board.

Now President of:

Abhyankar Smarak Trust, Nagpur.

Maharashtra State Federation of Goshalas and Panjarpol.

Kushta Rog Niwaran Samiti, Shantivan.

Global Schools Foundation, Singapore.




Now, Vice President of:

Shiksha Mandal Wardha and Jabalpur.




Patron :

International Lerposy Union.

Chairman:

Institute of Gandhian Studies, Wardha.

Vidhi Anuvad va Paribhasha Sallagar Samiti, Govt. of Maharashtra.

Bombay Reforms Association.

Sarvodaya Ashram, Nagpur.

Managing Council G.S. College of Commerce and Economics, Jabalpur.

Rashtra Bhasha Prachar Samiti, Wardha

Gandhi Research Foundation, Jalgaon

Now, Member of :

Board of Advisors, Mani Bhavan Gandhi Sangrahalaya.

Advisory Board, Sane Guruji Rashtriya Smarak.

Advisory Committee, Campaign Against Child Labour (CACL)

Community Aid and Sponsorship Programme (CASP)

Trustee :

Kushta Rog Niwaran Samiti, Shantiwan.

Society for Education, Action and Research in Community Health (SEARCH) Gadchiroli.

Jamnalal Bajaj Foundation.

Geeta Pratisthan.

Fuiji Guruji Memorial Trust.

Seva Mandal Education Society, Mumbai

Gandhi Labour Foundation, Puri.

Trusteeship Foundation.

Connected with Award Committees of :

Jamnalal Bajaj Award.

Ladies Wing of Indian Merchants Chambers- Jankidevi Bajaj Award

Also Actively Connected With:

Maharashtra Vyassan Mukti Movement.

Prayas

Mahila Shantisena. And several Social Organizations.
AUTHORSHIP :
A book on Constitution of India titled as "Bharatiya Sanvidhanache Adhisthan" (Marathi) which received Government of Maharashtra Literary Award for the year 1976-77.

"Reflections on Indian Constitution.

Shodha – Gandhicha (Marathi);

Manjil Durach Rahali (Marathi);

"Samajman" (Marathi);

"Kalachi Paule" (Biography in Marathi);

Antaryatra, (Marathi) Received Government of Maharashtra Literary Award for the Year 2002-2003.

Suryodayachi Wat Oahuya (Marathi);

Sahapravas (Marathi)

Bhartiya Sanvidhan Aantrang (Hindi);

Bhartiya Bandharanu Adhisthan (Gujarati);

Khoj - Gandhiki (Hindi);

Manusnama (Marathi);

Lok Tantra, Nyaya evam Rahoke Anveshi (Hindi);

Ek Nyayamurti ka Halafnama (Biography in Hindi)

Manav Nishta Adhyatma (Marathi)

Gandhi Vichar va Paryavaran (Marathi)

Gandhi Vichar aur Paryavaran (Hindi);

Rule of The Heart The Justice of Chandrashekhar Dharmadhikari (A Biography) by Sheshrao Chavan

Sahriday Nyayamurti Chandrashekhar Dharmadhikari ki Nyay-Yatra (Hindi) by Sheshrao Chavan

Bharatiya Nyaypranali : Dasha va Dhisha

Gandhi - Meri Najar Mein (Hindi)

Shodh Manasacha (Marathi)

Stree-Shakti Vimarsh (Hindi)
Contributed several Articles in English, Hindi and Marathi in various periodicals, magazines etc. Known as good orator. Delivered number of talks in Lecture Series, Organised by the Universities and other Social and Cultural Organisations. Delivered Convocation Addresses in Shivaji University, Nagpur University, North Maharashtra University and Konkan Agricultural University, Dr. Babasaheb Ambedkar Technological University, Lonere-Raigad.
AWARD :

Government of Maharashtra Literary Award 1976-77 and 2002-03,

Karandikar Trust Dharwad Literary Award,

Distinguished Citizen Award of Rotary Club of Bombay,

Gopal Krishna Gokhale Award,

Gandhi Jan Award,

Gosewa Ratna Puraskar,

Rashtra Gaurav Puraskar (World Peace Movement Trust)

Awarded Padma-Bhushan by the President of India

Bharati Gaurav Puraskar,

Ashirwad Rajbhasha Gaurav Puraskar,

Justice Ranade Samaj Seva Puraskar,

Durgadevi Saraf Samaj Seva Puraskar

Justice Ramshastri Prabhune Samajik Nyaya Puraskar,

Bhausaheb Dhamankar Prerana Puraskar, For Samaj Seva and Kushta Seva and Social Awareness,

In recognition of his selfless services to humanity and Country and above all his dedication to cause of justice, peace and progress he was awarded Michael John Gold Medal by TATA WORKER'S UNION, Jamshedpur etc.,

National Gandhi Fellowship by GANDHI SMRITI & DARSHAN SAMITI, NEW DELHI,

On 9th of October, 2007, describing me as eminent Jurist, Rani Durgavati Vishwavidyalaya, Jabalpur has conferred on him Honoris Causa Degree of Doctor of Laws,

Recognised as Lions (Club) Favorite Humanitarian,

President of 59th Vidarbha Sahitya Sammelan,

Maharashtra Suvarna Jayanti Hindi Seva Vishishtha Sanman,

Akhil Bharatiya Hindi Seva Puraskar by Maharashtra Hindi Academy.
Was invited to deliver Key-note address in Bruhan-Maharashtra Mandal 1999 Convention, San Jose, Silicone Valley, U.S.A.
Visited Japan on the invitation of Japan-Bharatiya Maitri Sangh and Nipponzan Myohoji Trust, Japan.
Visited Singapore in connection with the India's Independence Day Celebration and unveiling of Statue of Mahatma Gandhi and inauguration of Mahatma Gandhi Centre for Thoughts and Values at Singapore.
Visited Malaysia and Japan in connection with Opening of Global Indian International School and unveiling Statues of Mahatma Gandhi.
---
SHRI CHANDRASHEKHAR S. DHARMADHIKARI is Khadidhari since his birth. Once it was decided that the Caste Barriers should be broken and man's status does not depend upon his caste or creed, the first thing he decided is not to enter any ritual or Sanskar restricted to a particular caste. Though he is a Brahmin by caste, he has not performed a Thread Ceremony and has chosen to remain Shudra. Marriage performed was also as per Special Marriage Act – a Registered Marriage, which is common to all casts, creeds, religion and is secular in nature. Total expenditure for marriage was Rs. Twenty only.
At the age of 14, he took part in Quit India Movement. He left school and thereafter an order was issued by the British Government that he should not be admitted in any Recognized School. He took active part in Quit India Movement. His two elder brothers, father, mother and other family members were already in Jail, and he was the only male member left in the family. Therefore, he avoided arrest and since then worked underground. Was responsible for various activities, which sustained and maintained Quit India Movement for years together.
His contribution to the National Movement now gets recognition from the Government of Maharashtra, when Government included his name in a prestigious list of Freedom Fighters, without any request or application, and is also granted Freedom Fighter's Pension.
As a Judge, his Judgments were outstanding. He believed that Judge should be Impartial, but not impassive. Judgments delivered by him, relating to Rights of Women, Adiwasi, Children, Insane People, Prisoners are land marks. His Judgment delivered during the Emergency was a unique one. In the said Judgment he held that apart from the Constitutional Right, a Right to Life is natural and human right and therefore, even during the Emergency, a Citizen has a right to approach the High Court, as natural and human right to Life can not be taken away. As per this Judgment he entertained the Petitions and released the detenus, against whom there was no material. He was known as a most up-right, independent and fearless Judge.
As a Chairman of the Dahanu Taluka Environment Protection Authority, he has introduced an altogether new concept and principle in the field of rehabilitation. The concept "Pre-habilitation" and "Pre-Afforestation" is introduced by him, which in itself is a unique and revolutionary. As per this Principle, before cutting a tree, authorities concerned are obliged to plant ten trees, before demolishing a house, authorities are obliged to construct a new house for a person who is likely to be displaced, and after the person is given a new house, where he shifts, then alone demolition of house is permitted.
Under his leadership, such afforestation has taken place in Dahanu Taluka. The Eighteen Forests are developed, which are known as :

AANTARBHARTI UPAVAN – VILLAGE – KHAMBALE, TALUKA – DAHANU.

KRANTIVIR ACHYUTRAO PATWARDHAN KRANTIVAN, VILLAGE-CHIKHALA, TALUKA-DAHANU.

STREE-SHAKTI UPAVAN, VILLAGE-KODAD, TALUKA- DAHANU.

SHRAMA-SHAKTI UPAVAN, VILLAGE-KHANIVADE, TALUKA-DAHANU.

RASHITRIYA MAHAMARG MAHATMA GANDHI UPAVAN, VILLAGE - NANDGAON, TALUKA –DAHANU.

MEGHARAJ DEVRAI, VILLAGE-JALSAR, TALUKA-DAHANU.

BHARAT SEVAK HON'BLE GOPAL KRISHNA GOKHALE UPAVAN AT DAHANU.

SEVAMAYI ACHARYA BHISE UPAVAN AT CHIKHALA, TALUKA - DAHANU.

TARABAI MODAK BAL-SHAKTI UPAVAN AT NAVA-SAKHARA.

SAUJANYAMURTI, ADIVASI SEVAK, PADMAVIBHUSHAN-BALASAHEB KHER BHUMIPUTRA UPVAN AT VILLEGE- AASAVE.

MATRUBHOOMI UPAVAN AT VILLEGE- NIKANE.

AHIMSA UPAVAN AT VILLEGE- NAVA SAKHARA.

MATSYAVTAR UPAVAN AT VILLEGE- CHIKHALA.

VISHWAKARMA UPAVAN AT VILLEGE- MAN JAMBUGAON.

SARVADHARMA SAMABHAV UPAVAN AT VILLEGE-SONULE.

SANE GURUJI UPAVAN AT VILLEGE- NAVA SAKHARA.

ANNADATA UPAVAN AT VILLEGE- SONALE.

JEEVAN DARSHAN UPAVAN AT VILLEGE- OSARVIRA.
He is known as best interpreter (भाष्यकार) of Gandhian Thoughts, throughout the country. Is very popular amongst the Youth.
His thoughts about the Women Empowerment are well appreciated. He was also associated with the Maharashtra State as well as National Women's Commission. Today he is known as a backbone of Sarvodaya Movement.
His thought provoking speeches keep audience spellbound. It gives a new insight for solving problems. He is known as a good thinker and orator in Hindi, Marathi and English. However, from the 15th August, 1947, he has decided normally not to speak in English. Because on that day Mahatma Gandhi had told the B.B.C. Reporter to inform the World that Gandhi does not know English.
He is associated with various Educational Institutions and Social organizations.
He is actively associated with the rural development organizations, which are carrying on activities in the field of Health, Micro Water Shed Development Agriculture, Village Industries, Adiwasi Welfare, Women Welfare, Pollution Awareness, Afforestation and Youth etc. He was also engaged in relief work in Gujarat, Kerala and Maharashtra. Balwant Rai Mehta Panchayat Raj Jagriti Kendra, which is engaged in training the Members of Village Panchayats, so as to empower Panchayat Raj System, so that it can achieve the goal of GRAM SWARAJ. Whereas SEARCH is working in the remotest Adiwasi area for overall development of Adiwasis, particularly in the field of Health. The work done by SEARCH has received Worldwide recognition.
Various Authors have dedicated their Books to him, in recognition of his social service, and qualities of heart and mind. Some of them are as under:-
| | | |
| --- | --- | --- |
| SHAHIR G. D. MADGULKAR | | Author – RAJA MANGALWEDHEKAR |
| RAJMUDRA | | Author – SURESH DWADASHIWAR |
| SHIKSHAKACHA DHARMA | | Author – RAM SHEWALKAR |
| MAHATMA GANDHI PRANIT AKARA VRATE | | Author – CHANDRAKANT PADGAONKAR |
| VISHAYANURUP DNYANESHWARI | | Author- JUSTICE DHANANJAY DESHPANDE |
| FOUR LANGUAGES PRACTICAL DICTIONARY, 8TH EDITION | | Author- GANESH OTURKAR |
| RETELLING THE GOLDEN TRUTH THROUGH SHORT STORIES | | Author- J. R. KOKANDAKAR |
| NIWADNUKICHA –KAYDA | | Author- JUSTICE NARENDRA CHAPALGAONKAR. |
| | | |
At the age of 85, he is still involved in Socio-Economic, Educational, Gandhian and Sarvodaya Activities.